International Day of Awareness of Food Loss and Waste
This year we celebrate the first ever observance of the International Day of Awareness of Food Loss and Waste.

Today, FAO estimates that roughly one third (by weight) of the edible parts of food produced globally for human consumption is lost or wasted, which is around 1.3 billion tonnes of food loss and waste per year. Some of the most nutritious foods, fruit and vegetables, account for approximately 44% of food loss and waste by weight. Consumers are one of the leading contributors of food waste, driving retail production demands through choice and over consumption.

The time to Act is Now! As individuals you can make a difference simply by what you choose to put on your plate, repurpose and take from the environment. You can be a conscious consumer helping to shape a better food system for the future.
To celebrate and raise awareness, our partner UNEP will be looking for your
inspiring Kitchen Memories to share on social media that can help get others
to take action and make better choices for our environment and food system.
​
By sharing "Kitchen Memories" from our Family and our Refettorios we invite people to share memories, tips and ideas from their kitchen that help promote and take actions of sustainability for the health of the planet and well-being of people.
THINK. Wasting food is often a subconscious act. You might think it's not something you do, but check out these facts and you'll realise there's so much food going to waste, some of it might actually be coming from you!
​
EAT. Take inspiration from our recipes, follow the tips from our chefs and share your kitchen memories with us.
SAVE. Help us achieve SDG's Goal #12.3, commit to an Act of Change and Love for people and the planet and inspire others around you to do the same!
Think.Eat.Save, is a partnership between UNEP and FAO contributing to the Sustainable Food Systems Programme of the One Planet Network, to raise awareness of global and local food waste and how to reduce its impact.
We hope to be a place of inspiration, where you can Learn, Share, and Act, starting in the kitchen - cooking with love, for people and the planet.
​
Why is it important to reduce food loss and waste?
---
Globally, around 14 percent of food produced is lost between harvest and retail. Significant quantities are also wasted in retail and at the consumption level. When food is loss or wasted, all the resources that were used to produce this food -, including water, land, energy, labour and capital – go to waste. In addition, the disposal of food loss and waste in landfills, leads to greenhouse gas emissions, contributing to climate change.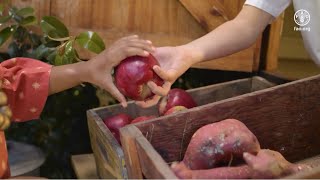 ---
What are the key messages?
---
1. Reducing food losses and waste provides a powerful means to rebuild a more sustainable, healthy and equitable food system. 2. Innovation, technologies and infrastructure are critical to increasing the efficiency of food systems and to reducing food losses and waste. 3. Sustainable cold chain practices help minimize food loss and waste, through the wise selection of technologies, regular preventative maintenance, optimal temperature control and proper storage of chilled or frozen products. 4. Public interventions should seek to facilitate investments and change inconsumer affluence; and individuals shall adopt new behaviors to shop carefully, store food correctly and make good use of leftovers. 5. Countries should adopt SDG Target 12.3, measure national data, take policy action, and include food loss and waste in their Climate plans under the Paris Agreement. 6. Innovative business models, with the participation of the private sector need to be shaped and new approaches are needed to finance them, to stop food loss and food waste. 7. We should all be food savers: for the people, for the planet! https://www.oneplanetnetwork.org/sites/default/files/unep-fw-guidance-content-version-web_1.pdf
---
Why reducing Food Loss and Waste represents a key climate solution:
---
Our food system is interconnected to the environment and can either improve or accelerate the loss of biodiversity, nourish or deplete soil, forestation and resiliency in nature, by the agricultural practices, production and accessibility we invest in. All people depend on a healthy planet. Nature plays a critical role in providing food, medicines and a variety of materials fundamental to the physical and mental well-being as well as livelihoods of all people. Nature also contributes to non-material aspects of quality of life, including inspiration and learning, cultural expression and physical, psychological and spiritual development. Degradation of ecosystems, including from deforestation, competing use of land, uncontrolled expansion of agriculture particularly for intensive farming, and infrastructure development, as well as the unsustainable exploitation of wild species have created a 'perfect storm' for the spillover of diseases from wildlife to people. As stated by UNEP One of the greatest global challenges is to integrate environmental sustainability with economic growth and welfare by decoupling environmental degradation from economic growth and doing more with less. Resource decoupling and impact decoupling are needed to promote sustainable consumption and production patterns and to make the transition towards a greener and more socially inclusive global economy. 66% - of the ocean area is experiencing multiple impacts from people, including from fisheries, pollution, and chemical changes from acidification 75% - of the Earth's land surface has been significantly altered by human actions, including for example the loss of 85% of the area of wetlands Food loss and waste generates 8% of global greenhouse gas emissions. Cutting this back is one of the most effective ways that we as individuals, and our governments, can reduce our climate impact. The COVID-19 pandemic offers countries an opportunity to build recovery plans that will reverse current trends and change our consumption and production patterns towards a more sustainable future. What is Sustainable Development Goal 12? SDG 12: Responsible Consumption and Production Target 12.3 By 2030, halve per capita global food waste at the retail and consumer levels and reduce food losses along production and supply chains, including post-harvest losses https://www.un.org/sustainabledevelopment/wp-content/uploads/2020/07/E_infographics_12.pdf Worldwide consumption and production — a driving force of the global economy — rest on the use of the natural environment and resources in a way that continues to have destructive impacts on the planet. Economic and social progress over the last century has been accompanied by environmental degradation that is endangering the very systems on which our future development — indeed, our very survival — depends. A few facts and figures:
Each year, an estimated one third of all food produced – equivalent to 1.3 billion tonnes worth around $1 trillion – ends up rotting in the bins of consumers and retailers, or spoiling due to poor transportation and harvesting practices.
If people worldwide switched to energy efficient light bulbs the world would save US$120 billion annually.
Should the global population reach 9.6 billion by 2050, the equivalent of almost three planets could be required to provide the natural resources needed to sustain current lifestyles.
Sustainable consumption and production is about doing more and better with less. It is also about decoupling economic growth from environmental degradation, increasing resource efficiency and promoting sustainable lifestyles. Sustainable consumption and production can also contribute substantially to poverty alleviation and the transition towards low-carbon and green economies. Champions for 12.3 Sustainable Development Goal 12.3
---
What is the International Day of Awareness of Food Loss and Waste?
---
This year we celebrate the first ever observance of the International Day of Awareness of Food Loss and Waste. It comes during the global COVID-19 pandemic, that has brought about a global wake-up on the need to transform and rebalance the way our food is produced and consumed. Actions are required at the local and global level to rethink the way we produce and consume food. Reducing food loss and waste requires the attention and actions of all, from food producers, to food supply chain stakeholders, to food industries, retailers and consumers. https://www.unenvironment.org/events/un-day/international-day-awareness-food-loss-and-waste
---
---
Long before banana breads made it to the top of social media' hit lists during the lockdown, someone else was running their kitchens with very little waste: our grandparents. They were ingenious in the way they were using ingredients and making their meal plans.
Passatelli in broth
by Massimo Bottura
"One of my favorite recipes made with leftover ingredients is Passatelli, one that anyone can easily replicate at home. It comes from 'Cucina Povera', the tradition of making great food with simple and available ingredients without wasting anything. And that's how breadcrumbs, eggs and Parmesan cheese can be turned into a soul-warming bowl of noodles in broth. Breadcrumbs are the epitome of the 'waste not, want not' food ethic.
My grandmother Ancella used to do this recipe for my family. I learnt from her and now I love making it for my family. Her recipe has been passed down from generation to generation in my family. The recipe is so easy and children friendly, that's why I encourage everyone to spend time with their family or loved ones and get messy together!"
Here are some examples of tips and recipes from our Refettorios:
Action 1: Take Action #KitchenMemories
​
Download Food for Soul "Tips in the Kitchen" in partnership with
​

Action 2: Join the Global Movement
Help us achieve SDG's Goal #12.3, commit to an Act of Change and Love for people and the planet and inspire others around you to do the same!
​
Put your chef's hat on, take inspShare, share, share! Post your creations on social media using the hashtag #CookingIsAnActOfLove and #KitchenMemories or tagging Food for Soul, invite your friends and loved ones to submit their own recipes and help us spread the love.

Submit your recipe with a picture and the story behind it, tell us why Cooking is an Act of Love for you, and we will share it here for everyone to enjoy it.

Share, share, share! Post your creations on social media using the hashtag #CookingIsAnActOfLove or tagging Food for Soul, invite your friends and loved ones to submit their own recipes and help us spread the love.
​
​
Action 3: Get Involved
​
Take inspiration from Massimo Bottura's Passatelli in broth or from the many recipes from Bread is Gold and become a more conscious consumer and cook.
​
​
​Become a volunteer

Donate
WE WANT TO HEAR FROM YOU!
Share with us your Kitchen Memories and tell us about your act of love for people and the planet.